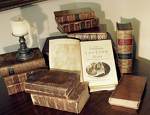 The web has become our new library as we search for information and answers to our questions.
Online Resources
Part of our commitment to your success on the web is in providing access to helpful materials, websites, articles and other supportive resources. Our aim is to inform, educate and support your profitable growth and success on the web.
To that end you will find this a resource rich page which will continue to grow. We have included resources for the web and for business in general. We suggest you bookmark it and come back on a regular basis.
Why Build a Website? by Irene D. Gaudet
Web Development Terminology - or How to Know What Your Design Team is Talking About by Sherry Holub
Business and Career Resources
Copyright © I.D. Gaudet, 2005-17. www.vitrakcreative.com All Rights Reserved.
Creative Consultant I. D. Gaudet (info@vitrakcreative.com) Creative Offices: (780) 736-3877
Text, graphics, and HTML code are protected by Canadian, US and International Copyright Laws, and may not be copied (except for client evaluations), reprinted, published, translated, hosted, or otherwise distributed by any means without explicit permission.
11/13/2013